Wedged between China and India, the "Kingdom of Bhutan" still remains unnoticed by most people. Many aren't even aware of its existence or find it difficult to point them out on the map. However, staying off the radar is probably one of the reasons why they have managed to preserve their natural and cultural beauty and maintain an unbreakable bond with their beliefs. So, when we say Bhutan is a well-kept Secret of Asia, You better believe it. Those who were lucky enough to discover this gem could not stop praising it, and those who haven't, have no idea what they are missing out on. For the unlucky ones, here are some reasons why you must visit Bhutan, the happiest country in Asia.
GNH Over GDP
Usually, GDP or Gross Domestic Product is used to measure the economic progress of a country and is given a lot of importance. But the Himalayan Kingdom of Bhutan is a country that gives more priority to GNH or Gross National Happiness. Bhutan is the only country in the world to consider and measure happiness as an output.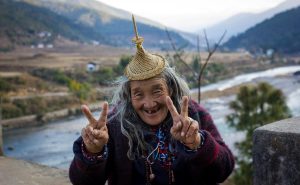 One of the main concerns of the king and the government is to make sure that their subjects are living happy lives. To ensure the best quality of life for the people, the government has already made many provisions already like, free education and health care. They are dedicated to making more changes that are in the best interest of the people in the future as well. Doesn't this make you curious about this country and the people living here?
Happiest and Welcoming People 
The people of the Kingdom of Bhutan are known as some of the happiest in the world. What else can you expect from the people of a country that scored a Hundred on the GNH scale, which is the highest score? 
Most of the Bhutanese people are Buddhist, so the values of simplicity and compassion are instilled in them. They believe in Karma, so they believe that if they lead a good life filled with good deeds then they will be rewarded in the next life. This faith compels them to lead an honest life with compassion and help each other.
Bhutan's Spiritual Dzongs
The people of Bhutan are spiritual beings who care very deeply about nature and their quality of life depends on spiritual values. So it should come as a surprise that there are many Dzong-style architectures in this country that represents those values. With huge fortress designs, trumpet-shaped roofs, internal courtyards and large entrances made with iron and wood, there are many stunning dzongs where visitors can find spiritual peace in Bhutan.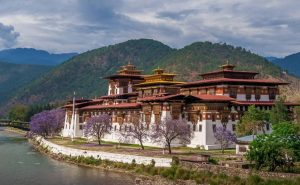 The Punakha Dzong, which literally means "Happiness Palace', is one of the most beautiful, second oldest and second largest Dzong in Bhutan. While Trongsa Dzong is the largest fortress in Bhutan  Although taking photos is prohibited in some of these places, the visuals will last in your memory for a long time. 
A Carbon-Negative Country
Like many other Asian Countries, a majority of the land in Bhutan is covered with forests. This didn't just happen naturally. The government of Bhutan has a law that at least 60% of the country must be covered by forests. Luckily, the country has been holding 70% greenery for some time now. This makes Bhutan the world's only carbon-negative country, so it absorbs more carbon dioxide than it produces.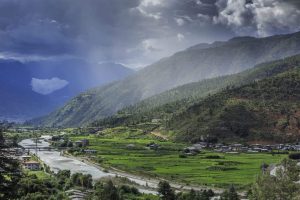 Since the 1960s, most of the land here are protected areas like Jigme Dorji National Park and Manas National Park. These parks feature incredible flora and fauna which looks ethereal at the foot of the majestic Himalayas. This is the perfect vacation spot for nature lovers.
Well-preserved Ancient Culture and Traditions
The Kingdom of Bhutan has managed to preserve and maintain most of its ancient cultures. Since the country was crammed between China and India, it remained hidden from the world well past half of the 20th century. This might have slowed down the progress of the country but it kept their bond with their beliefs and traditions strong. This is why, not just during a visit to any official or religious place, you will find the locals wearing traditional clothing while walking on the streets.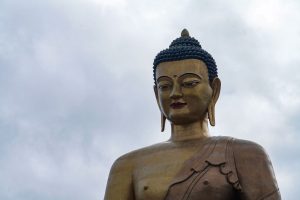 Apart from their traditional clothes, the people of Bhutan are also good at various traditional forms of arts and crafts, such as textiles, painting, making sculptures, and archery which are a huge part of their heritage. There are many activities you can take part in Bhutan even if you are a noob.
Fascinating Trekking Paths
Bhutan has a number of amazing trekking paths and hiking trails that can show you a side of the country that can't be realised through any pictures or videos seen online. As it is located at the foot Himalayas and is home to some of the most gorgeous trekking paths in the world, it is one of the best ways to explore and enjoy the best of what Bhutan has to offer.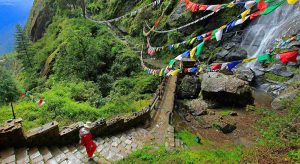 The treks that are available here have different levels of difficulty, so tourists are free to choose according to their preferences. For beginners, the best option to go for would be the Druk Path Trek. People with some experience will opt for Jhomolhari Trek, while thrill-seekers with good experience can enjoy the Snowman Trek with some difficulty. March, April, May, September and October are the best month to trek in Bhutan, so if you are interested then plan accordingly.
A Plethora of Festivals all Year Round
As we have discussed before, the people of Bhutan have maintained a strong connection with their culture and traditions. So it is a given that they will take any chance of celebrating those traditions with all the excitement they can muster. Nothing less can be expected from a country that is known to celebrate its festivals with richness, vitality, and entertainment.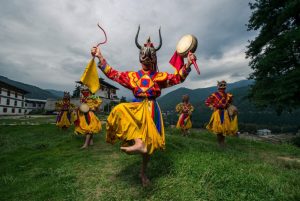 If you ever get the chance to participate in the celebration of any of Bhutan's festivals, then you better be prepared to see some Mysterious mask dances and thangka paintings as they are among the most crucial portions of the festivals in Bhutan. Bhutan celebrates a festival each month, so there are high chances of you catching at least one during your trip.
Interested in exploring the happiest country in Asia? Then you better book your flight tickets today from British Bangla Travel Ltd.