With so much natural beauty and cultural facets to explore, no wonder tourism in Thailand bounced back so quickly. This Southeast Asian country owes its popularity to tropical beaches, ancient ruins, luxurious royal palaces, decorated temples and stunning landmarks. This is why tourists often prefer Thailand as the perfect summer getaway. Though it is one of the more budget-friendly options to travel to, visitors sometimes end up splurging on unnecessary luxury during vacations. They may get carried away and dine in Michelin-star restaurants, hire a private car for commuting and book a room at a 5-star resort. They treat it as a once-in-a-lifetime opportunity. However, there are more ways to enjoy a trip to Thailand without breaking the bank. You just have to know where to go and what to do. So to help guide your way through Thailand on a budget, here are some fun things you can try.
Visit the Stunning Natural Parks
Being a nature lover in Thailand is a blessing. The number of natural parks in this country will amaze you. It has some of the most gorgeous natural parks you can dream of with a huge and diverse collection of unspoiled wilderness and wildlife. You can hike, and wander aimlessly marvelling at the visuals in the park. You can even observe birds as they are nurtured by the warm embrace of serene nature.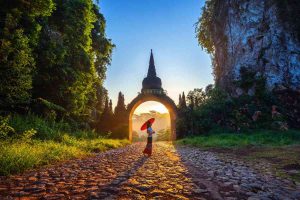 It has been scientifically proven that spending time in nature can reduce your stress and improve your mood. So you better take this chance to visit one of these natural parks for a few hours and walk out of them with a distressed demeanour and a better outlook on life. Kui Buri National Park, Kaeng Krachan National Park, Khao Sam Roi Yot National Park, and many more are among some of the most visited national parks in Thailand. These are the best places for you to explore on a budget trip to Thailand. 
Explore The Culinary World of Thailand
Never underestimates the sumptuous flavours of Thai cuisine. The exquisite blend of exotic spices will take you on a rollercoaster ride through a gastronomic adventure. But the delicious taste of Thai cuisine cannot be judged by its price in any way. You can have the best dish of your life even at a cheaper price than the cheapest in your country. You just have to know where to find it. For some mouthwatering lip-smacking delicacies at the lowest price, you would definitely want to roam through the streets.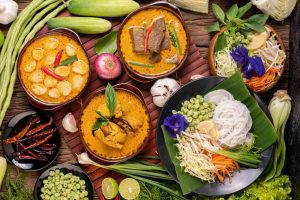 Thailand features some of the most unconventional food stalls on every street corner. But don't just judge them based on their appearance, rather let the line of hungry customers be the judge of it. Streets are where you can find the most authentic flavours of Thai food that will enlighten your palette as well as other senses. Pad See Eiw is one of the most popular Thai street food, along with stir-fried rice noodles, Kluay Tod and Khao Kha Moo. So even if your trip to Thailand is designed on a strict budget, your palette will be partying up with luxurious tastes and flavours. Speaking of parties, let's move on to our next point.
Take Advantage of the Free Party Hotspots
Cultural, natural and historic wonders aside, Thailand is also very well-known for its exuberant nightlife. Especially, if you are on a budget, then they are your best chance to have some fun. There are plenty of hotspots where you can enter for free. The number of free entries sometimes rises during the weekends to lure in more customers. Bars, clubs and other party places, you name it, Thailand's got it.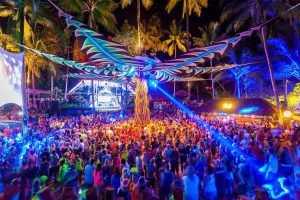 Among all the places in Thailand, Ko Pha Ngan is a popular party city. This island in the southeast region of Thailand hosts a good number of parties every month, but the most noteworthy one is the monthly Full Moon Party. The night-long parties are often frequented by foreigners from all over the world. And for people who are travelling to Thailand on a budget love this place for the wide range of options they can choose from.
Shop Till You Drop
Shop till you drop doesn't necessarily mean going bankrupt. You would amazed by how many products you can buy without making a huge dent in your budget. Thailand has something to offer everyone. And this statement cannot be refuted, especially when you consider the wide array of shops catering to all classes of people. Everyone loves a good deal and the ones you can get from the local malls here are to die for.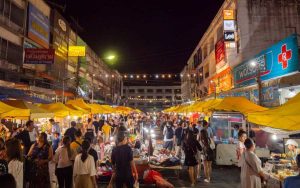 For starters, the endless options. Even while walking past 5 stalls you will notice at least 50 new products that you didn't even know existed. There are also some markets that are so huge that it could take more than 2 days to fully explore. One such market is Chatuchak Market. With over 15,000 stalls across 35 acres and 26 sections, there is a high possibility that you will get lost here. And if you are not a big fan of crowded places but would love to cruise the markets, then Pak Khlong Talat in Bangkok or the Krabi Night Market in Krabi are the best options for you. Remember, no matter what price the seller says, you can always bargain it down to get a better deal. But don't overdo it as it can also seem offensive as well  
Enjoy A Free Concert at Lumpini Park
People on a budget would love to listen to some live music as well, but they have to be frugal. So why not catch a free show at Lumpini Park in Bangkok from 5:30 Pm to 7 PM on every Sunday? This is an absolute must if you are planning a budget trip to Thailand. Here you will find the best sight in Bangkok thanks to the capital's symphony orchestra. It is famous as the 'Concert in the Park' since the entire program takes place in the middle of Lumpini Park.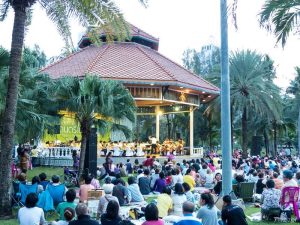 So if you are ever lucky enough to be in Bangkok on a Sunday, then you better squeeze Lumpini Park into your itinerary. Bring a mat with you that is big enough for you and your group and maybe arrange a kind of picnic if you want. It is a great way to naturally mingle with the locals while enjoying good hearty music. 
If you also want to try some of these activities to make the most out of your budget trip to Thailand then hurry and book your flight from British Bangla Travel Ltd today.