Pattaya, a popular beach resort town in Thailand, is famous for being a wonderland of jazzy parties, vibrant nightlife, and mouthwatering street food, at the same time it is known for being the hometown of avid Buddha preachers. Located on the eastern seaboard of Thailand, Pattaya boasts a plethora of exquisite tourist attractions. Usually, it would take weeks to explore all the wonders this place has to offer. However, if you are here on a short trip then let this article on the can't-miss stops of the city be your guide along your journey.
Explore Nong Nooch Botanical Garden
The magnificent orchid garden in Nang Nooch Village is a sight to behold. The sprawling park, gardens and zoo are perfect for spending a day out with your family. While there, visitors can enjoy live shows of Thai boxing matches, cockfights, Thai dancing, sword-fighting and an elephant show at the Thai Cultural Hall.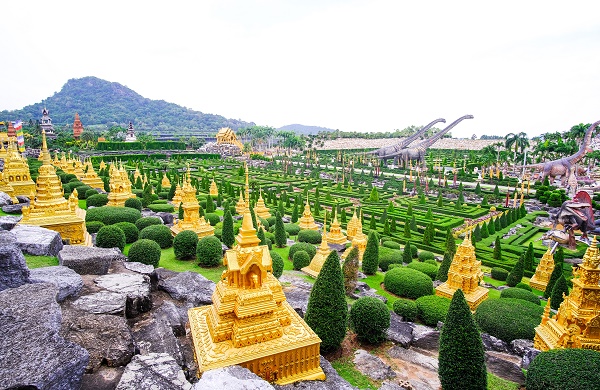 You can explore the walkways of the most beautiful gardens in Pattaya all day long without being tired. Some of the most noteworthy gardens include a topiary garden, a 17th-century French garden, and a European Renaissance garden.
Discover the Sanctuary of Truth
Visitors often get awe-struck at the sight of the temple of the Sanctuary of Truth which only preaches the significance of art, philosophy and religion in the development of humankind through wood carvings enveloping every space of this amalgamation of a palace and a temple.
Highlighted in the study of Thai architectural styles, this monument, also known as Satchatham Temple, was praised by many as "the magnificence of heaven recreated on Earth". The themes of the carvings artwork reflect the cycle of life, Utopia, and humanity's relationship to the universe depicting figures from Buddhist and Hindu mythology.
Climb the steps of Wat Yansangwararam
Providing insightful views into the values of Thai society along with an exemplary overview of Thai design and architectural traditions, Wat Yansangwararam, more commonly known as Wat Yan, stands tall among other remarkable wats or temples in Pattaya.
Built as a tribute to commemorate the 42nd reigning year of King Bhumibol Adulyadej in 1988, the main complex of this temple is currently the home to many priceless Buddhist relics, antiques and artefacts. Though you have to climb 299 steps lines with Naga snakes to reach this shrine, the experience you will gather there is worth the hike.
Pay a visit to the Big Buddha (Wat Phra Yai)
Placed on top of the wooded Pratamnak Hill, this giant golden statue of buddha exudes peace and tranquillity in the hearts of its visitors. The stair to this statue is also lined with golden Naga Snakes.
This place is always frequented by not just locals but also foreign tourists who come here in hopes of attaining good health, happiness, and prosperity.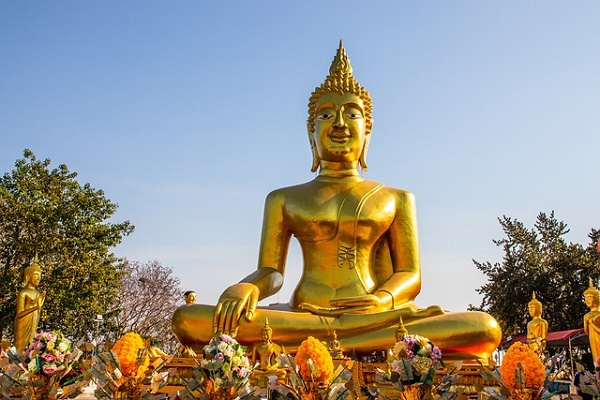 However, praying for a better future is not the only reason people come here, the view of the bay and other surrounding natural beauties bring thousands of backpackers to the top of this hill each year.
Take a Beach Trip to Koh Larn
A day-long beach trip to Koh Larn or Coral Island is the perfect escape from the hustle and bustle of city life. There are six main beaches with many small ones on this island that provide the visitors with a peaceful environment coupled with the scenic view of different sandy beaches lined with the blue and green ocean that slowly blends into the sky as it goes on.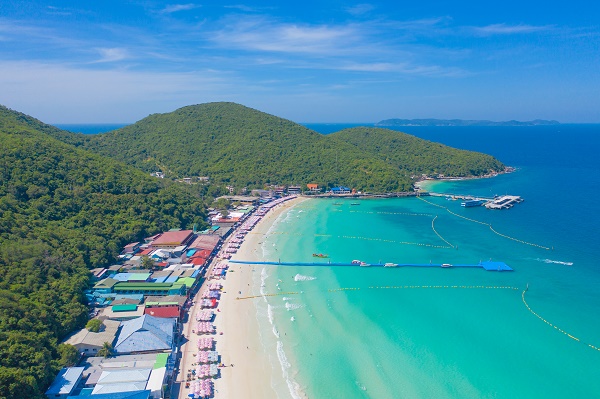 Apart from countless local food stalls and restroom facilities, the biggest selling point for the beach area is that it offers plenty of popular water sports like Parasailing, banana boat rides, underwater Sea Walking and many more.
Bring Your Kids to Art in Paradise
Whether you have kids or not, when you are visiting Pattaya you have to book a ticket to the illusion art museum, Art in Paradise. The exhibition held by this museum will both mesmerise and baffle you and also give you a chance to click a few mind-bending confusing pictures.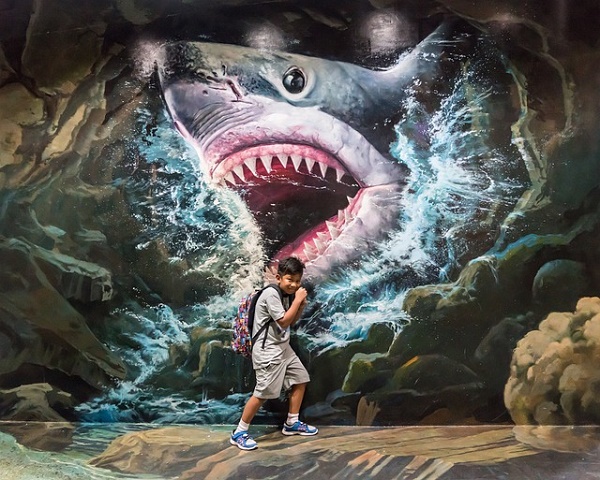 There are a number of different themed zones here for the most interesting photo ops like classic art, Egypt, the underwater world, safari, dinosaurs, and fantasy. If it is raining or too sunny outside, then this can be the best activity you can take part in with your family and friends.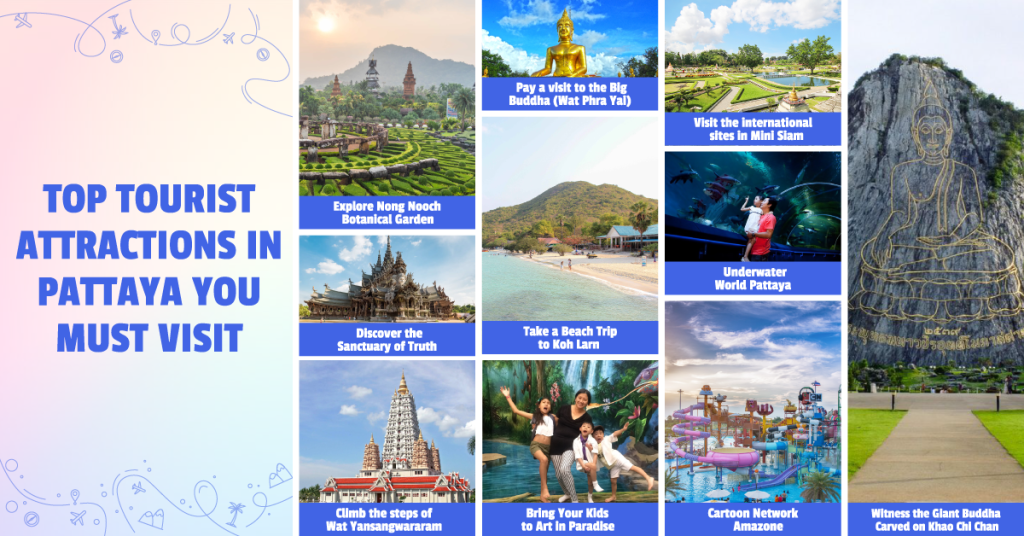 Visit the international sites in Mini Siam
Mini Siam exhibits the miniature version of the most famous international sites exquisitely, making it another kid-friendly must-visit site in Pattaya. This museum provides int audience with a fascinating way to look at the wonders of the world.
Some of the famous international sites featured here include Bangkok's Victory Monument and Wat Arun, New York's Statue of Liberty, London's Tower Bridge, the Sydney Opera House, and the L'Arc de Triomphe in Paris. Children love seeing these popular sites in a size closer to theirs.
Underwater World Pattaya
Boasting a wide array of exotic aquatic animals and sea creatures from different underwater environments, Underwater World is the first modern aquarium in Thailand with the largest collection of Jellyfish in the complex.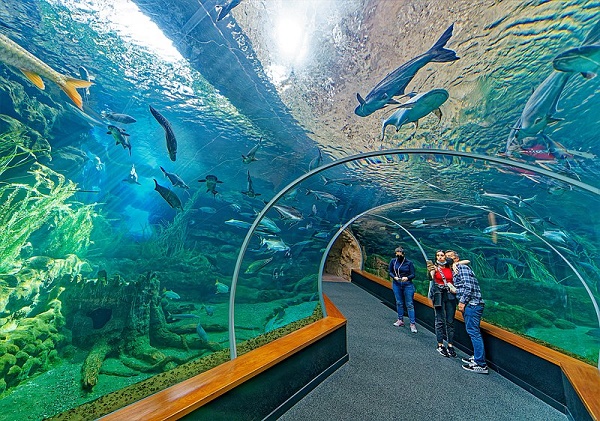 Here you can get as close as possible to the sea creatures including Sharks and Stingrays in a safe environment. It also offers a camping opportunity for kids where they can spend the night learning about different marine creatures.
Cartoon Network Amazone
Though many kids-friendly attractions have made the list, none of them come close to comparing to this one. Boasting over 25 different types of rides for children, the Cartoon Network Amazone Waterpark is the world's first cartoon network-themed Water Park and that too with an official license from the network.
After having fun on the rides all day you can also enjoy their lodging and dining services. With some of the world's fastest rides and a chance to meet and take pictures with some favourite cartoon network characters, no wonder this is an outstanding destination for kids only second to Disney World.
Witness the Giant Buddha Carved on Khao Chi Chan
Undoubtedly the most visited place in Pattaya will be the largest stone engraving of Buddha outlined with the projection of golden lasers. This limestone hill most noticeably serves as the focal point of Silverlake.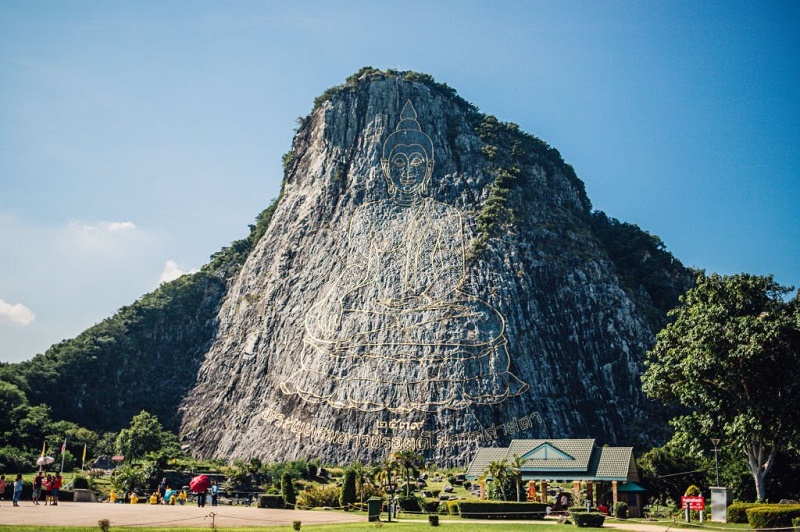 Popularly known as Buddha Mountain, Khao Chi Chan pays a tribute to the King, while establishing itself as a spiritual place for every visiting Buddhist. The beauty of the place was enhanced by the addition of a small lake, paved paths, and a number of water pools filled with lotus flowers. It's not just a place of worship but also a place overflowing with picturesque beauty.
So, the next time you plan on flying to Pattaya, do not miss your chance at visiting these beautiful, exciting and most fan-favourite destinations. For more Travel Related blogs, articles, tips and news, stay tuned to our Website.