Vietnam is among the most wonderful and tropical countries in South East Asia, which is frequented by occasional travellers and backpackers throughout the year. Vietnam is rich in history, culture, and natural beauty, and there are so many activities one can delve into here. But one significant feature of the country which is rarely highlighted is its gorgeous beaches. Countless breathtaking beaches and coral-ringed islands are spread across 3400km of coastline. Whether you want to sunbathe on a calm and peaceful beach or want to take a stroll through the white sandy shores by the busy cities, the beaches here will keep you engaged in every way possible. Here are some of Vietnam's stunning beaches where you can enjoy the surf, sand and sun. 
My Khe, Danang Beach
My Khe beach, locally known as Da Nang beach, is the main beach of the largest city in Vietnam. You can easily find shade under the palm trees while strolling over the soft sands along the 28 km coastline. For people who love relaxing peacefully, you can find the perfect spot on the beach, sit over a beach towel and stare off into the distance where the blue ocean meets the dense, deep-green forest.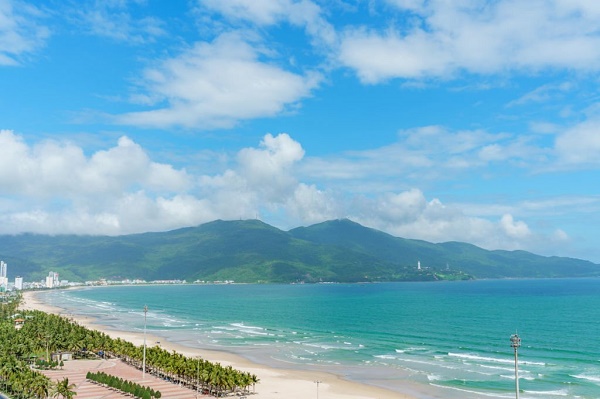 You will get a lot of opportunities to interact with the locals on this beach and see a few round bamboo boats in the water. If you can manage to book a room at a resort by the port, you can take short breaks from the heat and the sun without missing out on any of the beach fun.
Nha Trang Beach
Nha Trang Beach is among the most popular beaches in Vietnam. There is no shortage of activities to indulge in on this immaculate beach which is surrounded by parks and gardens. You can switch from beach walks and exploring the surrounding.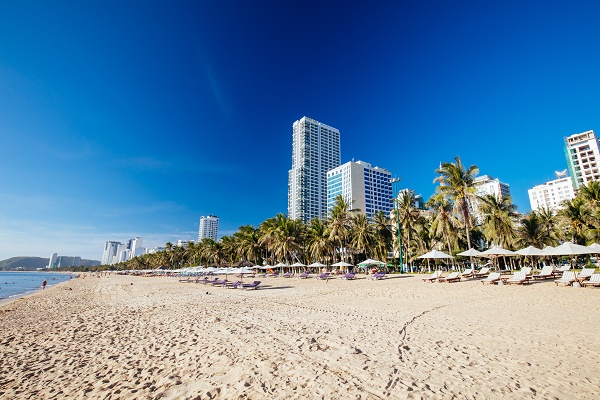 The beach has crystal-clear water perfect for swimming. And if you don't feel like swimming in the ocean then you can visit the Phu Dong water park or take a hot air balloon ride over the coastline. There are plenty of beachfront resorts with exotic cuisines and they can provide a lot of assistance in planning a day trip.
Cat Ba Beaches
Among many of Vietnam's hidden gems, the beaches of Cat Ba are quite phenomenal. Recently it has gained some recognition. The beach is actually a collection of three small beaches located between two large limestone hills which provides an uninterrupted view of the entire island.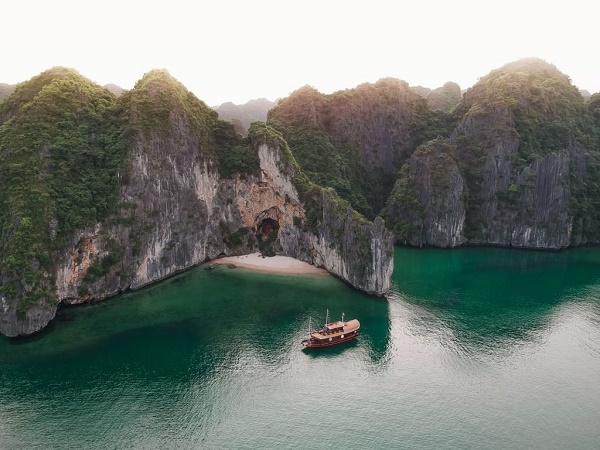 This beach usually stays calm except for the impressive waves thanks to the ocean breezes. There are plenty of resorts on this island that are only a walking distance from this beach, and the number keeps growing. When you leisurely sail through the fishing villages and towering hills, it will make your trip to this beach worth every second.
Long Beach, Phu Quoc
If you are looking for scenic beaches, then you must visit Vietnam's Phu Quoc island. Among the plenty of beaches on this island, tourists often gravitate toward Long Beach. This swimmers' paradise with 19-kilometre of white sandy beach is perfect for a tropical beach experience with lounge chairs and beachfront restaurants that serve fresh seafood lining the shore. 
The ambience of the beach exudes more of a lagoon feeling than an oceanic experience. So people come here mostly to relax and for casual swims. And if you need some help with relaxing, then locals offering massages are always around.
Tuan Chau and Bai Chay Beach, Ha Long Bay
This UNESCO World Heritage Site boasts a good number of outstanding beaches, among which Tuan Chau and Bai Chay beach definitely stands out. Where the artificial setup of both beaches lures tourists in, and the plethora of activities makes them want to stay.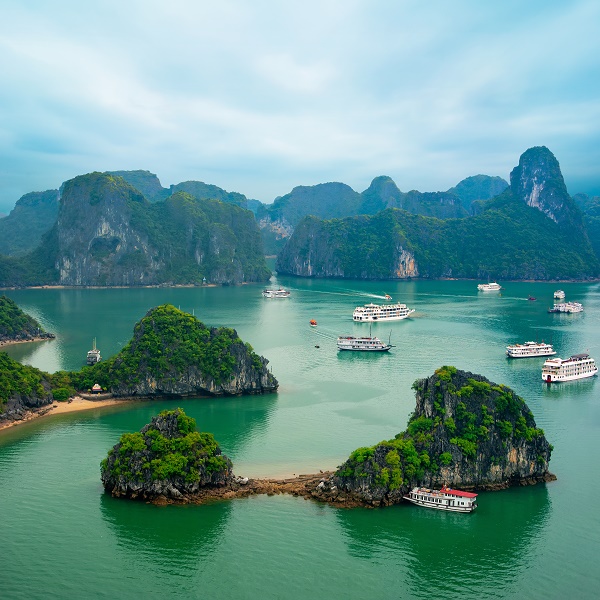 From swimming, sightseeing, climbing, wave surfing and camping outdoors, you will never get bored while you are here. For a memorable experience, plan a boat trip that takes you into the depths of the neighbouring islands.
Con Son Island, Con Dao Archipelago
Con Son is home to some of the most beautiful beaches in Vietnam. The clear turquoise-blue water that washes up the shoreline of the island's golden sand is perfect for snorkelling and diving.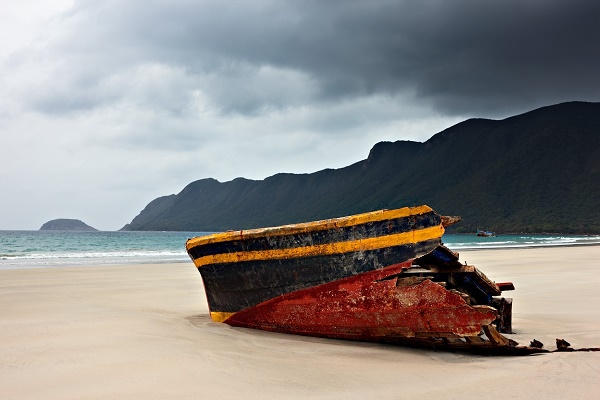 This is an underrated paradise which is not visited as much as Vietnam's other beaches. If it gets its due recognition, in time the beaches of this island will no doubt will entice more tourists from all over the world.
Doc Let Beach, Hon Khoi peninsula
When you come across a large bay with turquoise waters with a lush jungle in the background near Nha Trang on the east coast of Vietnam, you are visiting the nirvana known as  Doc Let Beach. It is comparatively less crowded, so people can spend a relaxing day sunbathing by the water.
The water at Doc Let Beach is suitable for swimming, and some water sports from kayak and wave runner rentals to parasailing are easy to do here. Families can enjoy a pleasant time here wading the waves thanks to the gradual depth of this beach.
An Bang Beach, Hoi An
If you are planning a day trip to one of Vietnam's most stunning beaches with the best views of the country's horizon, then choose An Bang beach. It is located near Hoi An, so feel free to explore the small streets and shops of the quiet area which is full of history.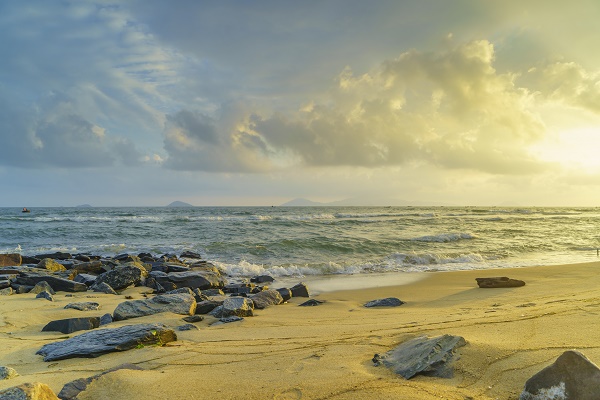 Blue skies over your head, a white sandy path to walk on, and gentle waves provide everyone with the ideal beach experience during spring and summer. Finding a place to crash for the night won't be hard as it is located near central tourist areas.
If you are someone who loves travelling and is interested in visiting some of the beloved tourist destinations, then visit our site to book your flight right now.